38mm Colorful Nylon Shackle Safety Padlock Lockout Padlock (BD-G11)
A. Durable, lightweight with non-conductive PA lock bodies, passed temperature from -57ºC to +177, shock resistance; The metal shackle is Chrome plating; The non-conductive shackle is made from nylon, ensure the strength and deformation fracture not easily.
B. The shackle and key are designed for dust-proof that are suitable for the use of dusty environment. The part code end "DP" stand for dust-proof.
C. Resistance of chemical, extreme temperatures and UV rays.
D. Key retaining feature ensure the padlocks are not left unlocked.
E. Laser printing available, front or flanks.
F. Several types classified by lock bodies; All different colors available.
G. Contain "DANGER"and "PROPERTY OF" standard labels on front and back.
H. Can be engraved with customers' logo if required. Can be customized noctilucence PVC sign.
Description

Shackle material

Series selection

Spectification

BD-G11

Nylon Shackle 38mm (Red)

Nylon

KD
KA

Antimagnetic
Explosionproof,
Generally used
In electricity.

BD-G12

Nylon Shackle 38mm (Yellow)

BD-G13

Nylon Shackle 38mm (Blue)

BD-G14

Nylon Shackle 38mm (Green)

BD-G15

Nylon Shackle 38mm (Black)

BD-G16

Nylon Shackle 38mm (White)

BD-G17

Nylon Shackle 38mm (Orange)

BD-G18

Nylon Shackle 38mm (Purple)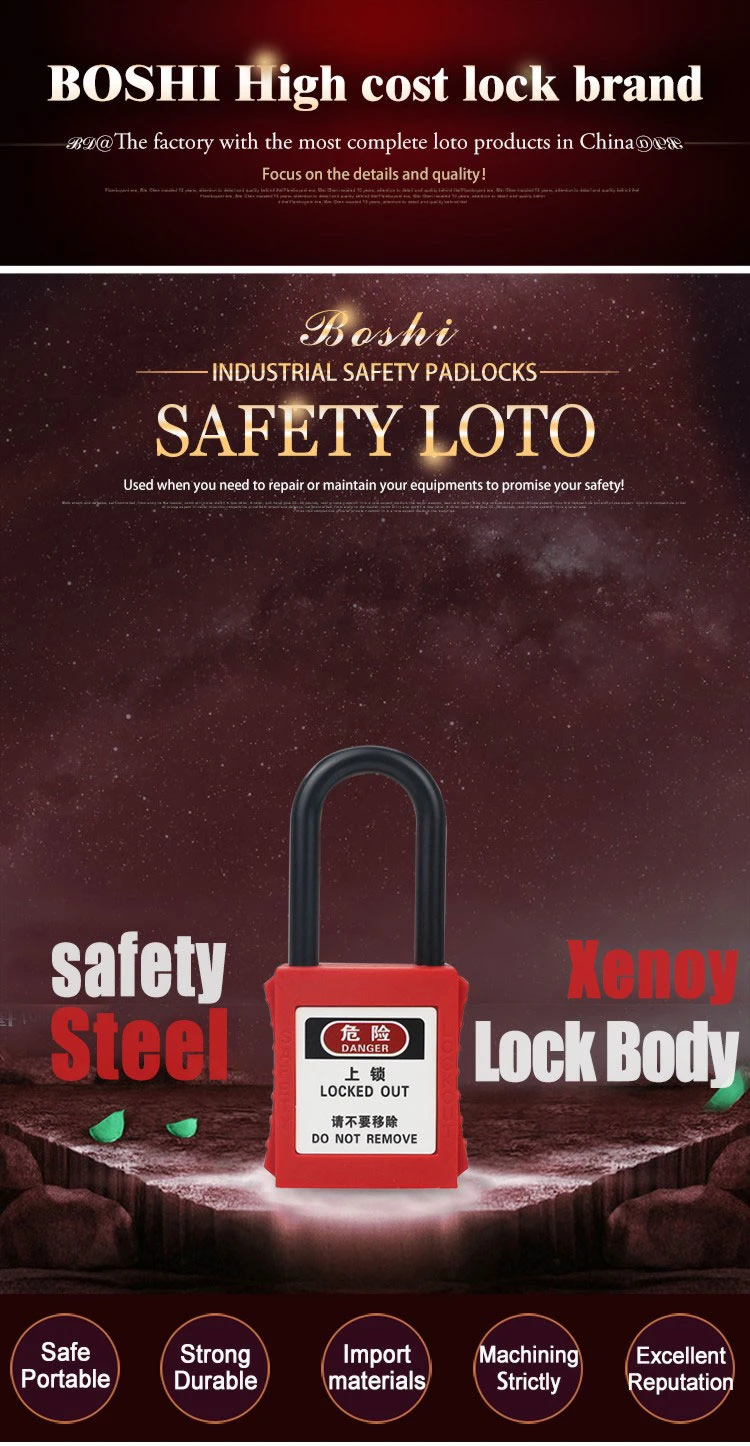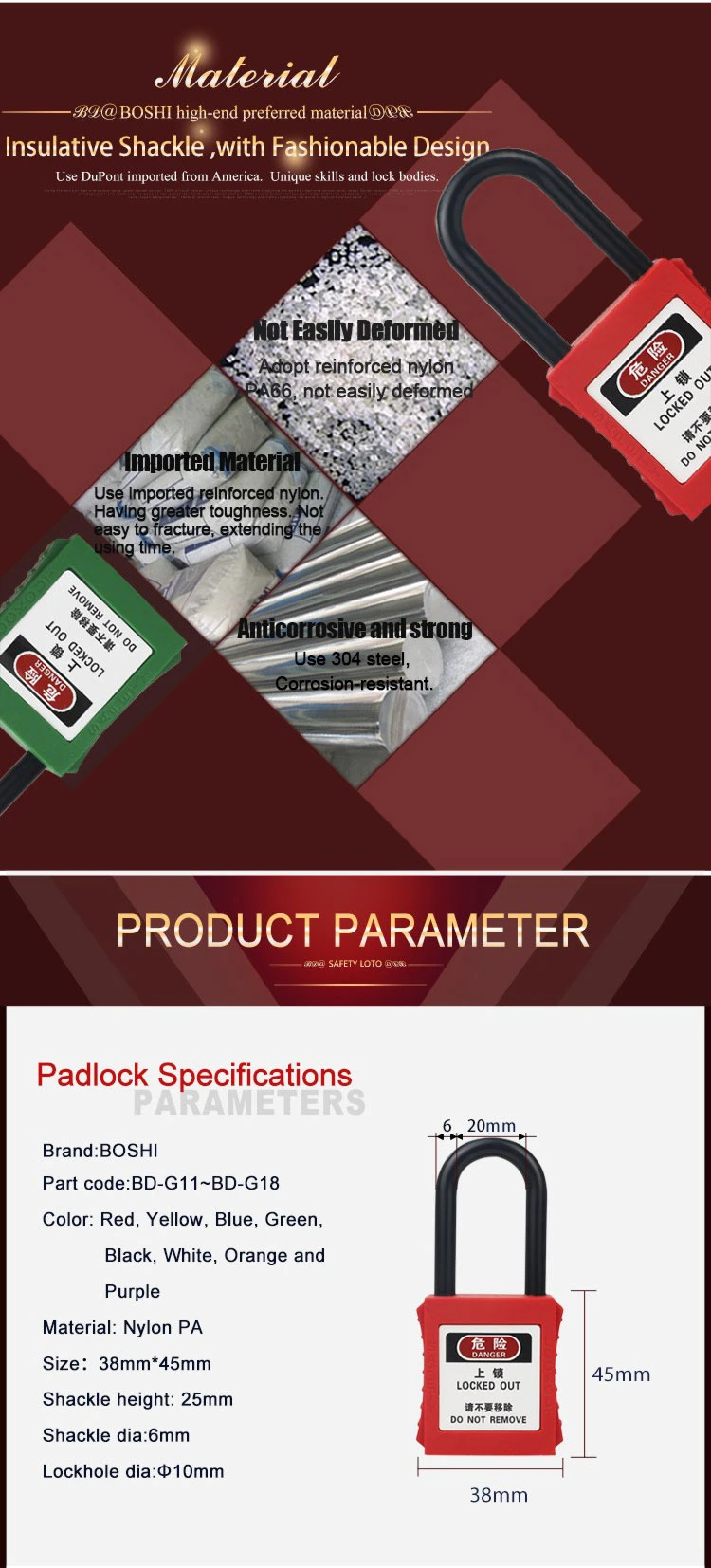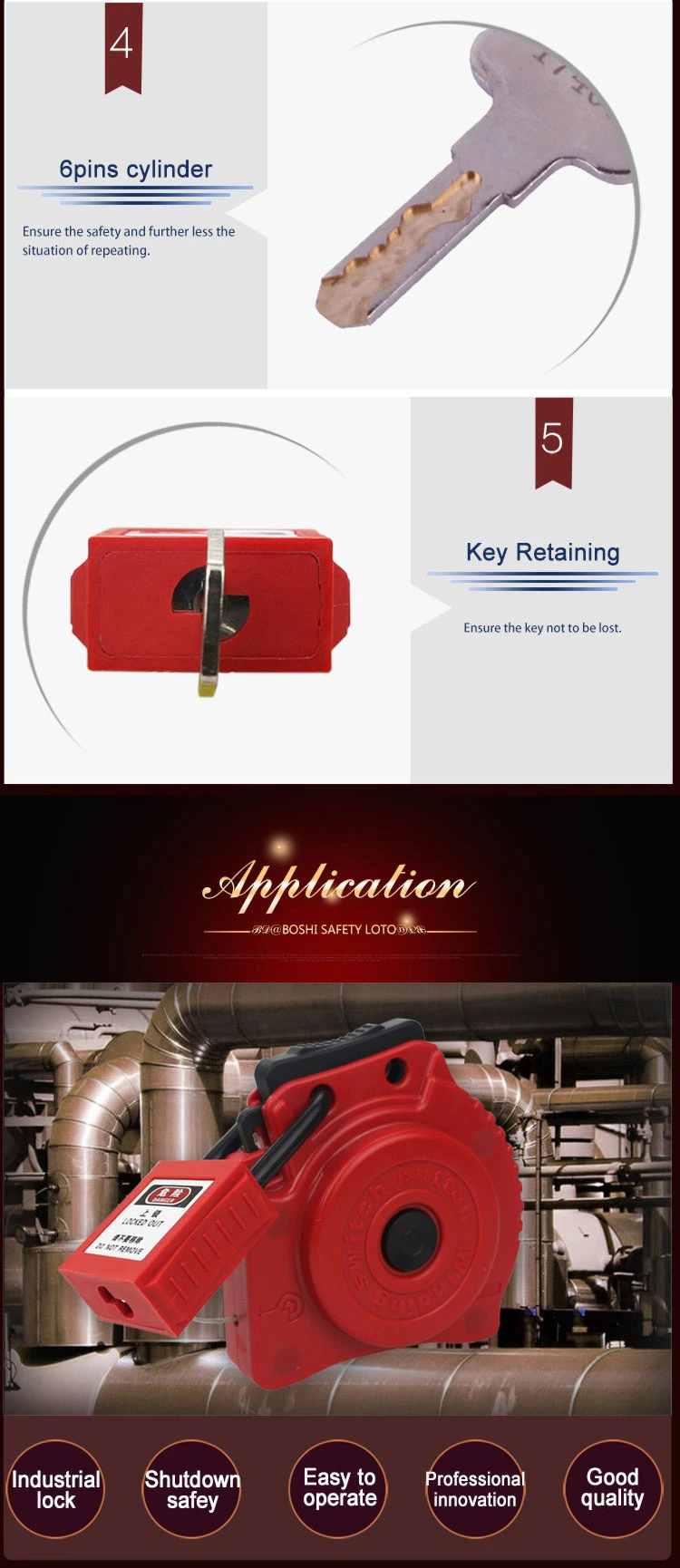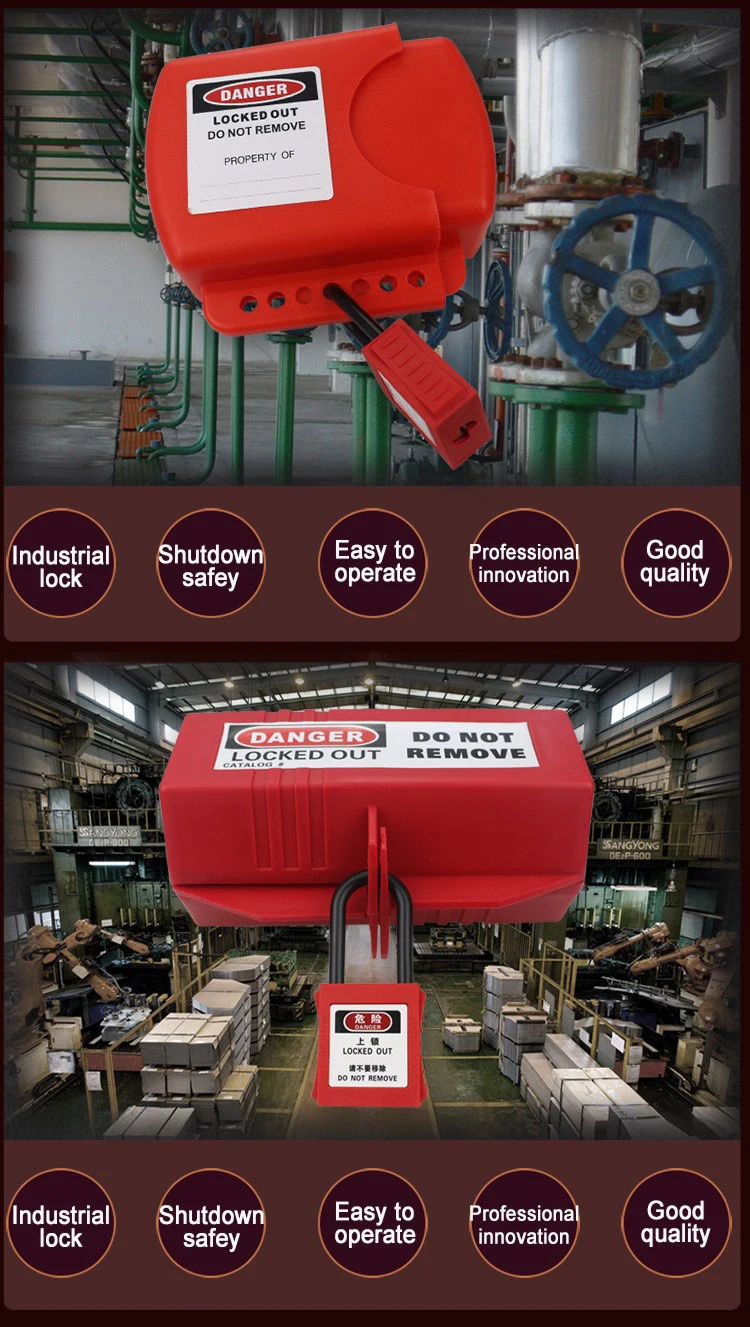 Company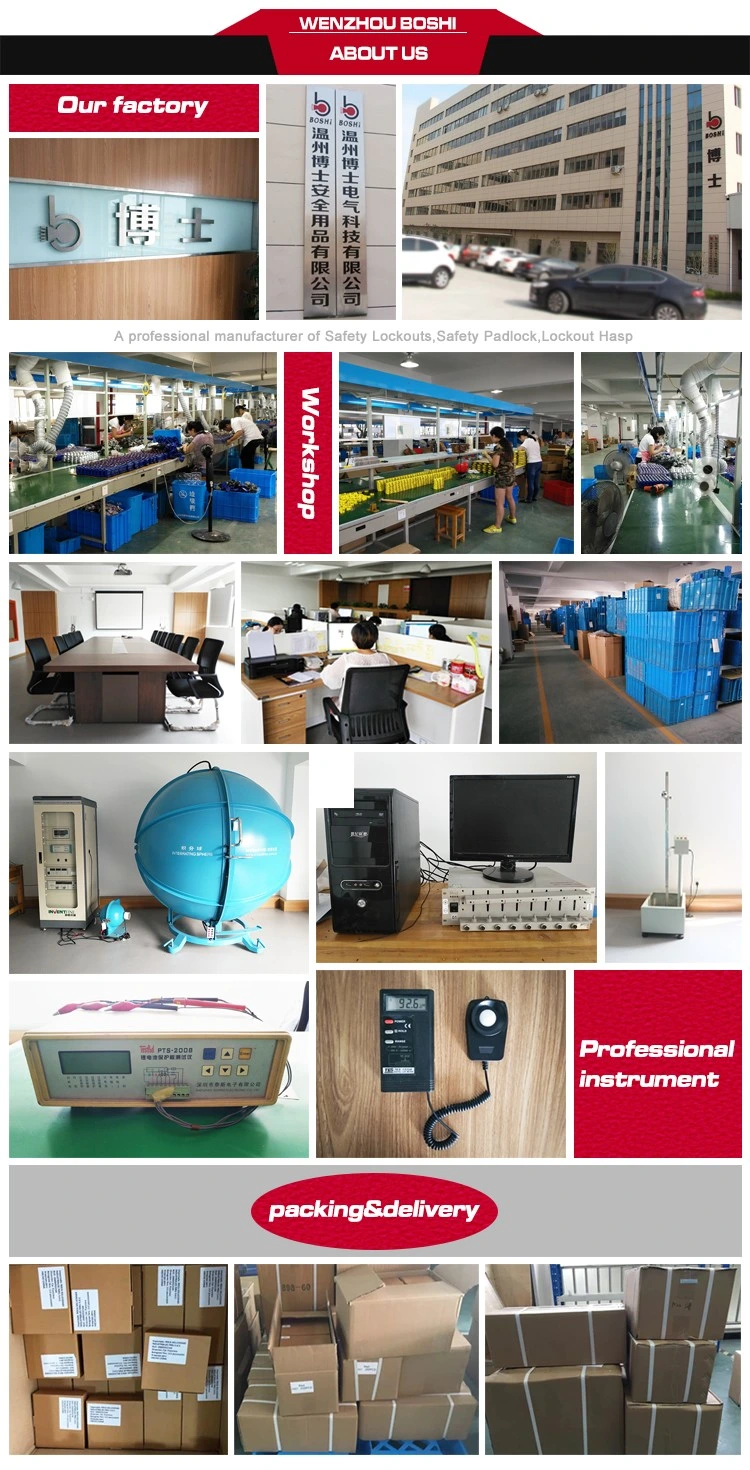 Certifications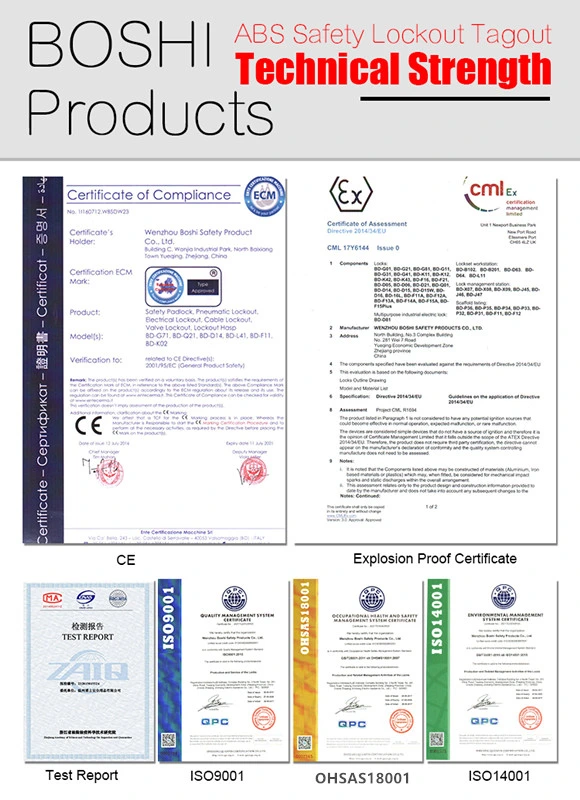 FAQ
1. Q: Could I put my own designs of label on the products?
A: Of course,
we accept customize.
2. Q: Can I have some samples before formal order?
A: Yes, we can
supply
samples for test
ing
before your order.
3. Q: How long is the lead time?
A: Normally we keep stock for most products, the lead time is 1-5 days as soon as the payment is released. For customized products, it takes longer.
4. Q: Are you manufacturer or just dealer?
A: We're manufaturer, we do
products by oursel
ves
. Welcome to visit our plant at any time.
5. Q: What's the payment terms? Can I pay after you got the products?
A: Normally we accept TT and western union. L/C is also accepted if the order is large enough
. Other tems need to be discuused.

6. Q: I couldn't find the products I want in your catalogue, can you develop it for me?
A: Yes, we have a research & development dept, we're willing to develop new products for you.