Lockey Loto OEM&ODM Steel Shackle Safety Padlock with Dust-proof and Waterproof Cover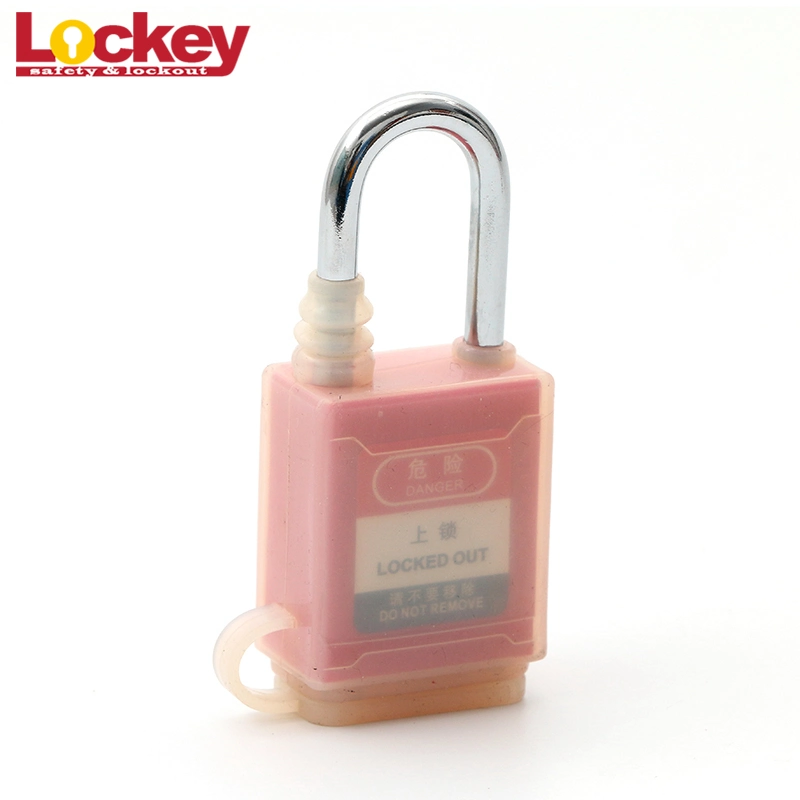 Part No.:
P38SR2, P38PR2
Safety Padlock
with
T
ranslucent
D
ustproof
C
over
Reinforced nylon body, withstand temperature from -20ºC to +80ºC. The steel shackle is chrome plated; the non-conductive shackle is made from nylon, withstand temperature from -20ºC to +120ºC, ensuring the strength and deformation fracture not easily. The cov

er is made of translucent silicone.

Key Retaining Feature: When the shackle is open, the key can't be removed.

Laser printing and logo engraving available if required.
Part No.
Description
Shackle Material
Specification

KA-P38SR2

Keyed Alike




Steel




"KA": Each padlock is keyed the same in one group




"P": Straight edge plastic lock body




"S": Steel shackle





Other material can be customized:




"SS": Stainless steel shackle




"BS": Brass shackle

KD-P38SR2

Keyed Differ

MK-P38SR2

Keyed & Alike/Differ

GMK-P38SR2

Grand Master Key

KA-P38PR2

Keyed Alike




Nylon

KD-P38PR2

Keyed Differ

MK-P38PR2

Keyed & Alike/Differ

GMK-P38PR2

Grand Master Key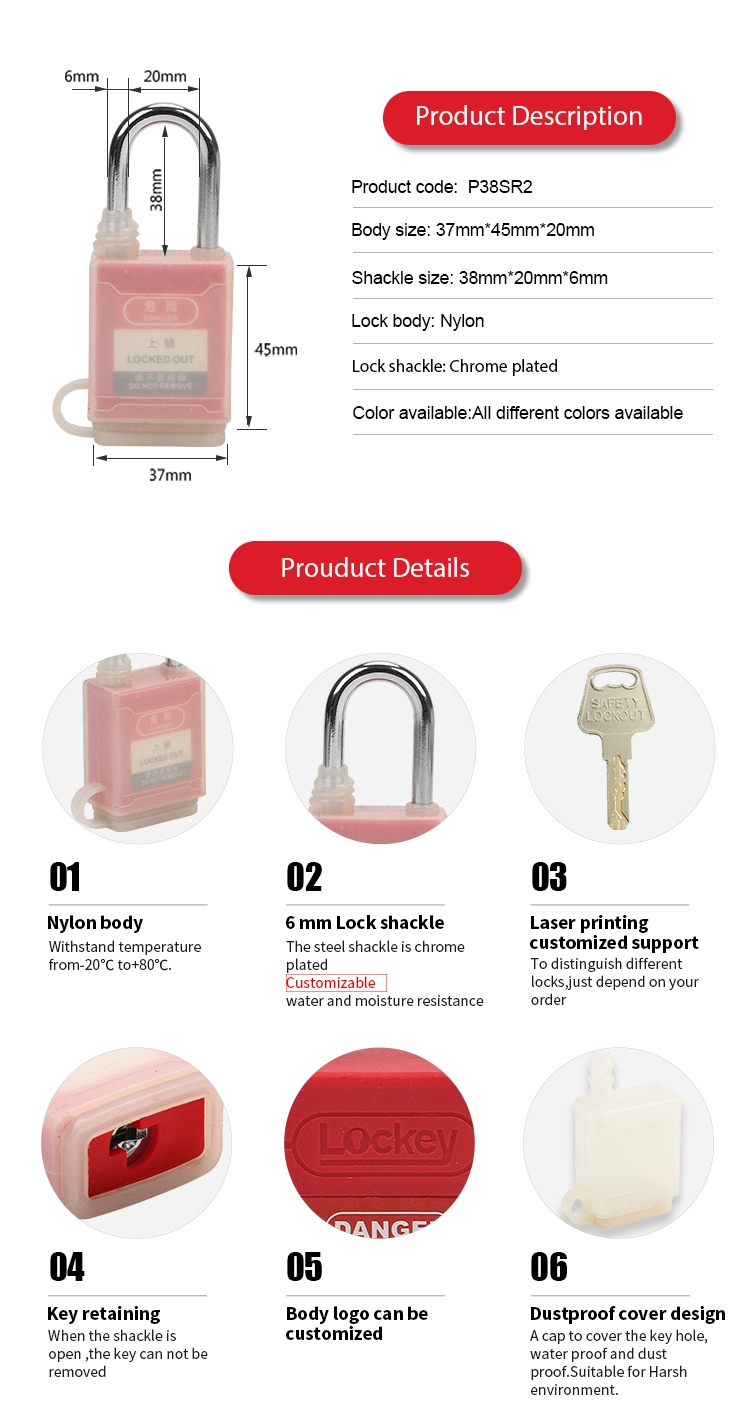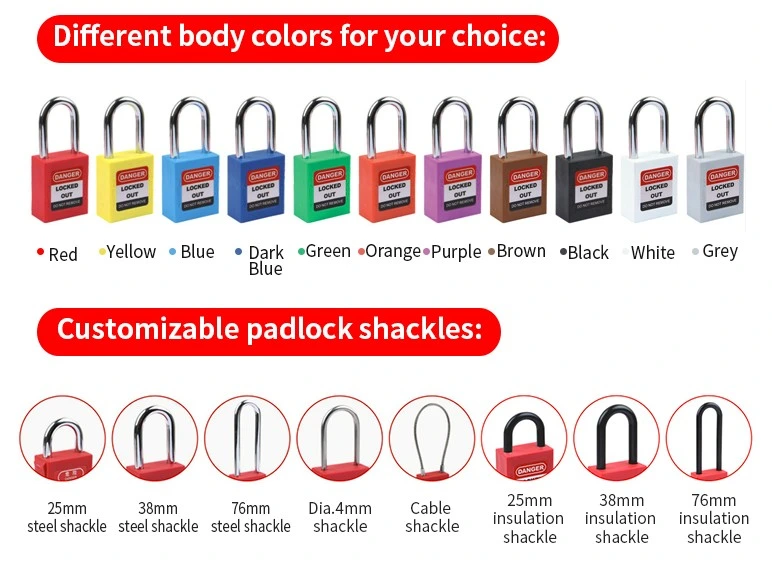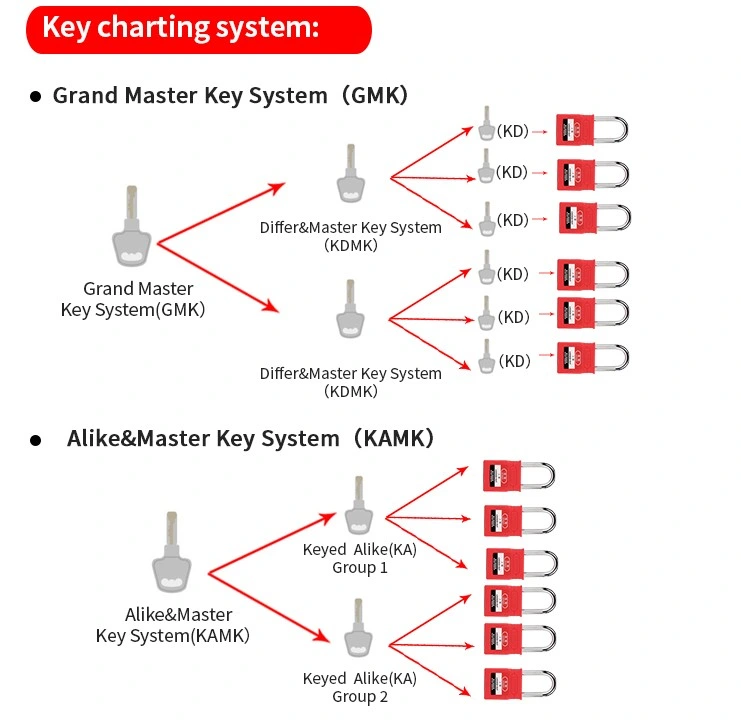 Payment&Delivery:
Lead time: usually 1-3 days after payment made, because we keep normal stock.
Delivery: by air, by express or by sea, all available.
Payment term: normally T/T and western union.
Company Profile:
Lockey Safety Products Co.,Ltd is a professional manufaturer specializing in producing all kinds of safety lockout products. We are founded on the manufacturing of proper lockout tagout products to help avoiding industrial accidents, which are caused by the unexpected erergization or start up of mechines and euqipments by the uncontrolled release of energy.
We aimed to provide good services based on our safety loto products. Good credit and reciprocal benefits are what we are following in business. If you are interested in any of our products, please feel free to contact us. We promise to supply excellent quality products, reasonable prices and satisfied services for you.